I am

Powerful


and

Prepared

I know when I can use deadly force in self-defense, and with U.S. Law Shield, I am prepared for any legal aftermath.

Sign Up

Member Benefits
Coverage If You Use a Gun, Whether You Pull the Trigger or Not

24/7 Attorney-Answered Emergency Hotline

Legal Representation for Criminal and Civil Proceedings

Updates on Firearms Laws

Special Offers Only Available to Our Members

Multistate Coverage Available For All 50 States

Real Protection - Not A Useless Reimbursement Scheme

Includes Coverage for Use of All Legal Weapons

Legal Protection for Accidental and Unintended Discharge
GUN LAWS ARE CONSTANTLY CHANGING
Make sure you don't miss a critical gun law update. Subscribe to the FREE U.S. Law Shield Newsletter today and ensure you don't get caught up in a legal nightmare.
Come Meet Us In Person. Attend A Gun Law Seminar!
The fact is that innocent gun owners go to jail every day for exercising their right of self-defense.
Don't let it happen to you!
Find out how to protect yourself after you've pulled the trigger by attending one of our seminars.
Get the facts about gun laws, presented by our firearm program attorneys and law enforcement professionals.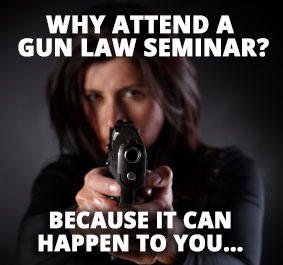 Why we are the #1 Firearms Legal Defense Program in the Nation
Top 5 Reasons Legal Gun Owners Go To Jail
Former Prosecutor Talks About Bumper Stickers And Signs
What Should I Do If I Am Arrested?
What Should I Do If I Have To Use My Firearm?
It Happened To Our Members... It Can Happen To You!
Member Wrongfully Arrested For Defending Girlfriend From Attack
Member Arrested After Middle Finger Mistaken For Firearm
Member Confronts Truck Thief, Faces Grand Jury
Member Wrongfully Charged With A Crime